Hip & Joints Bites
You can help boost your dog's movement with everything they need for maximum mobility. Perfect for dogs young and old, these supplements can keep your dog's joints in tip-top shape for years to come. Whether they're running at the park, playing fetch, or jumping onto the couch for a cuddle, you can help keep your best friend pain-free.
Shipped from Nevada Warehouse
Shipped by
Order within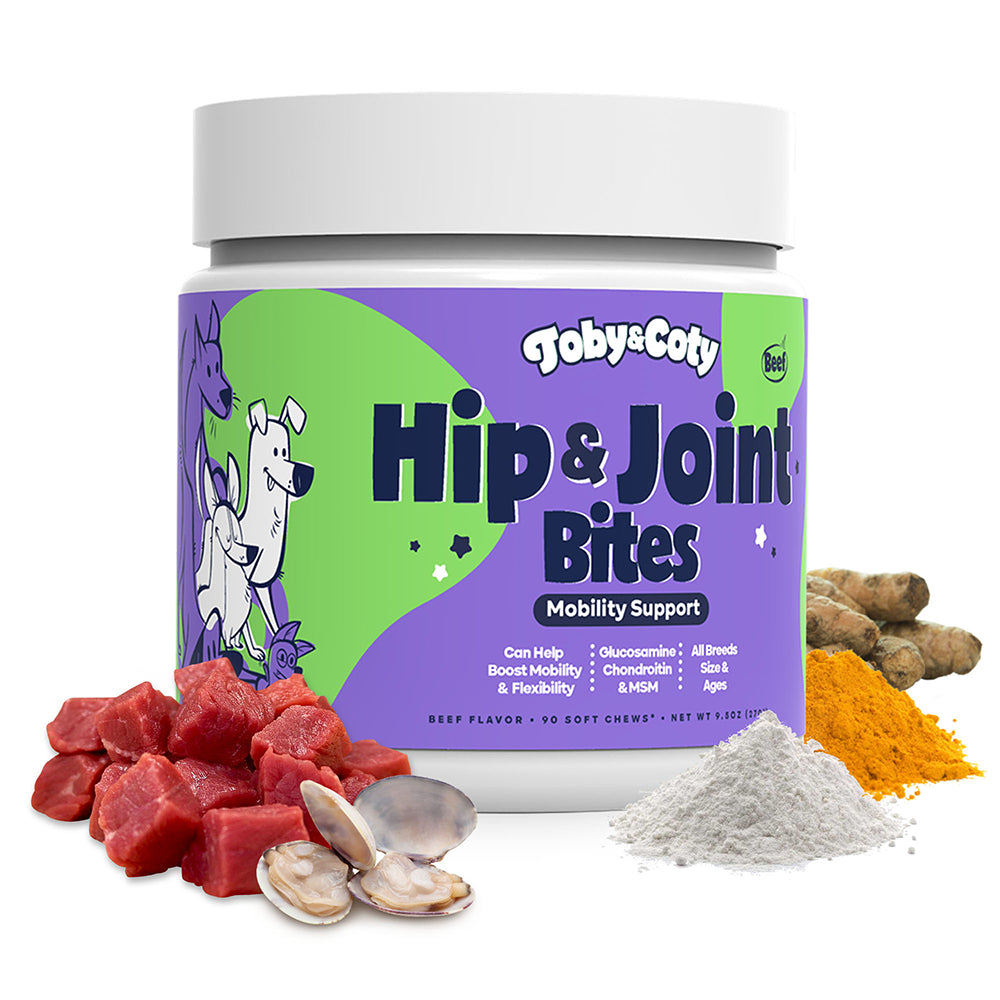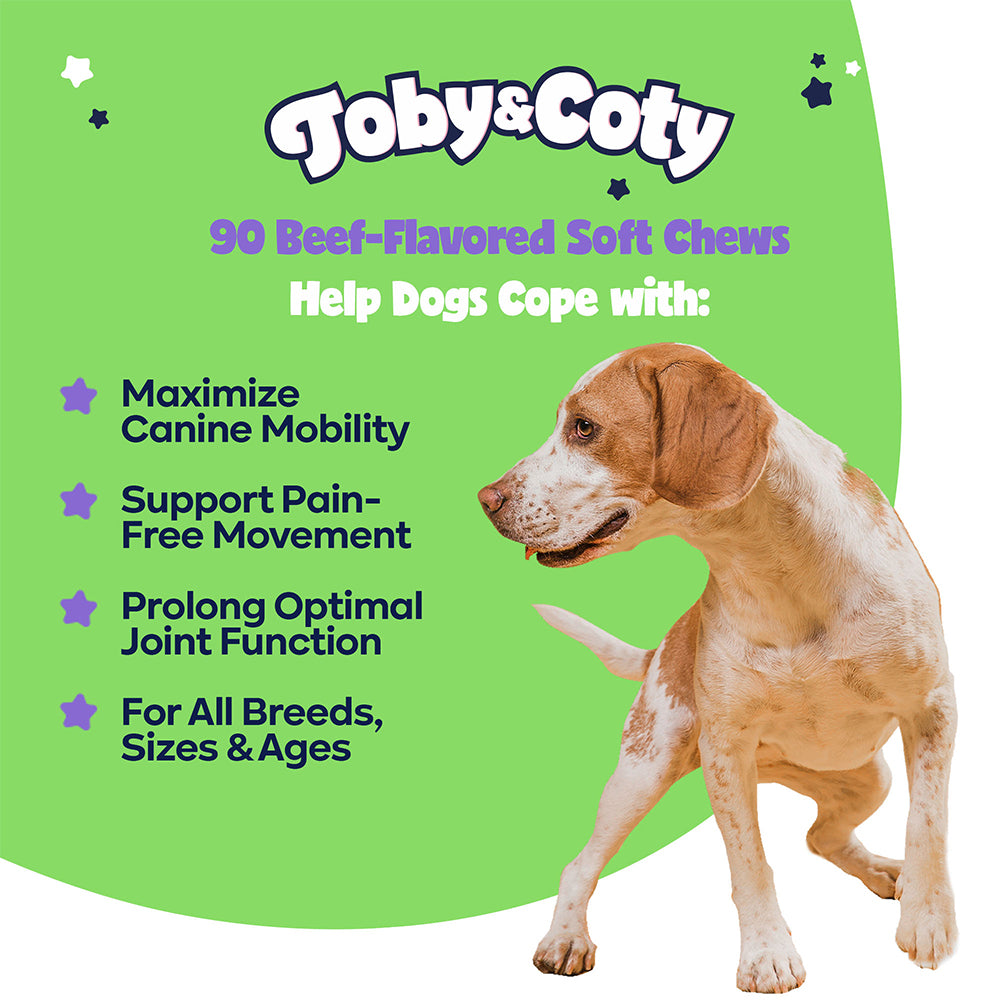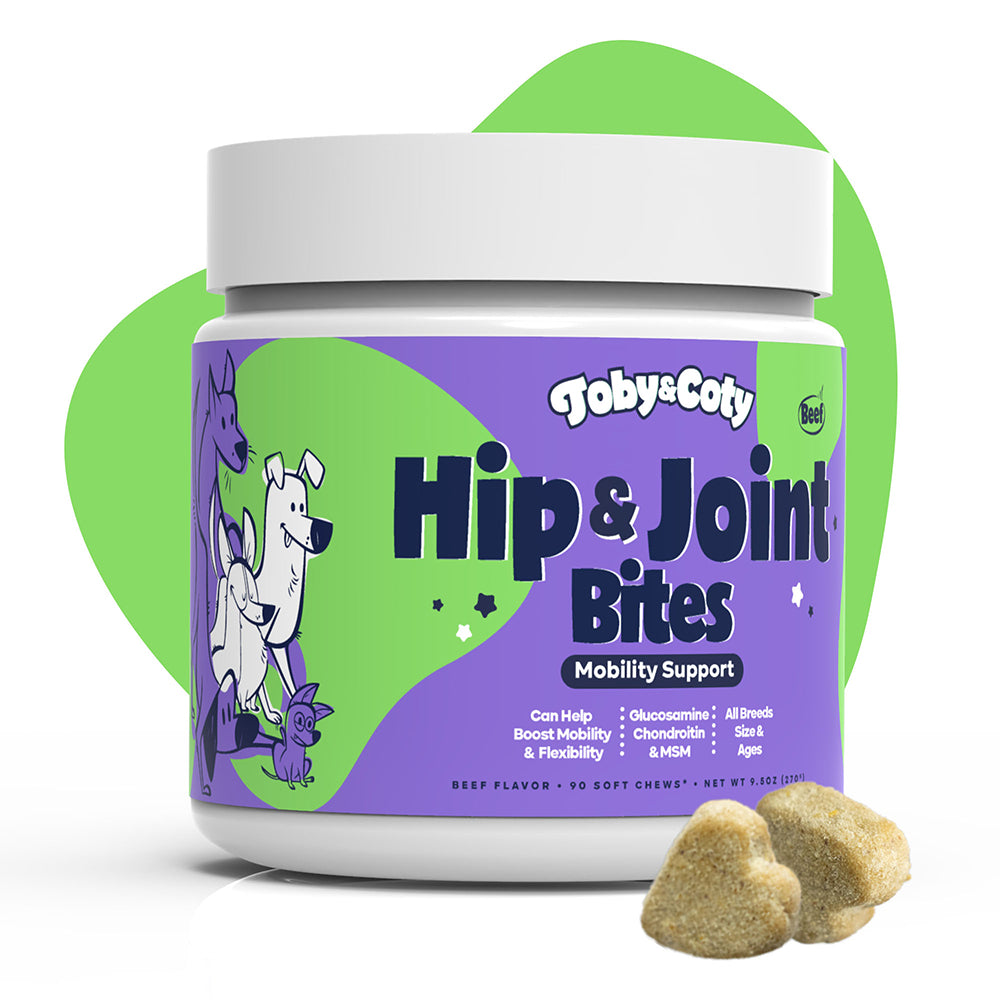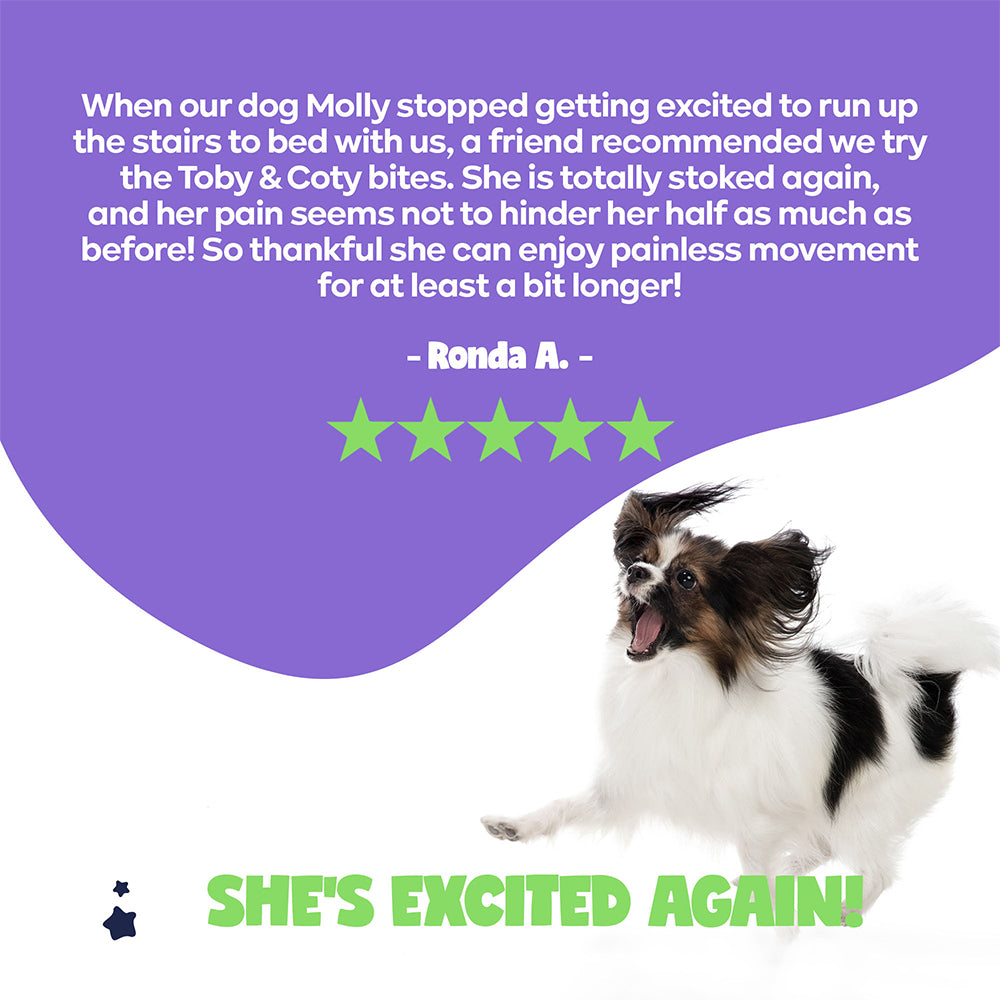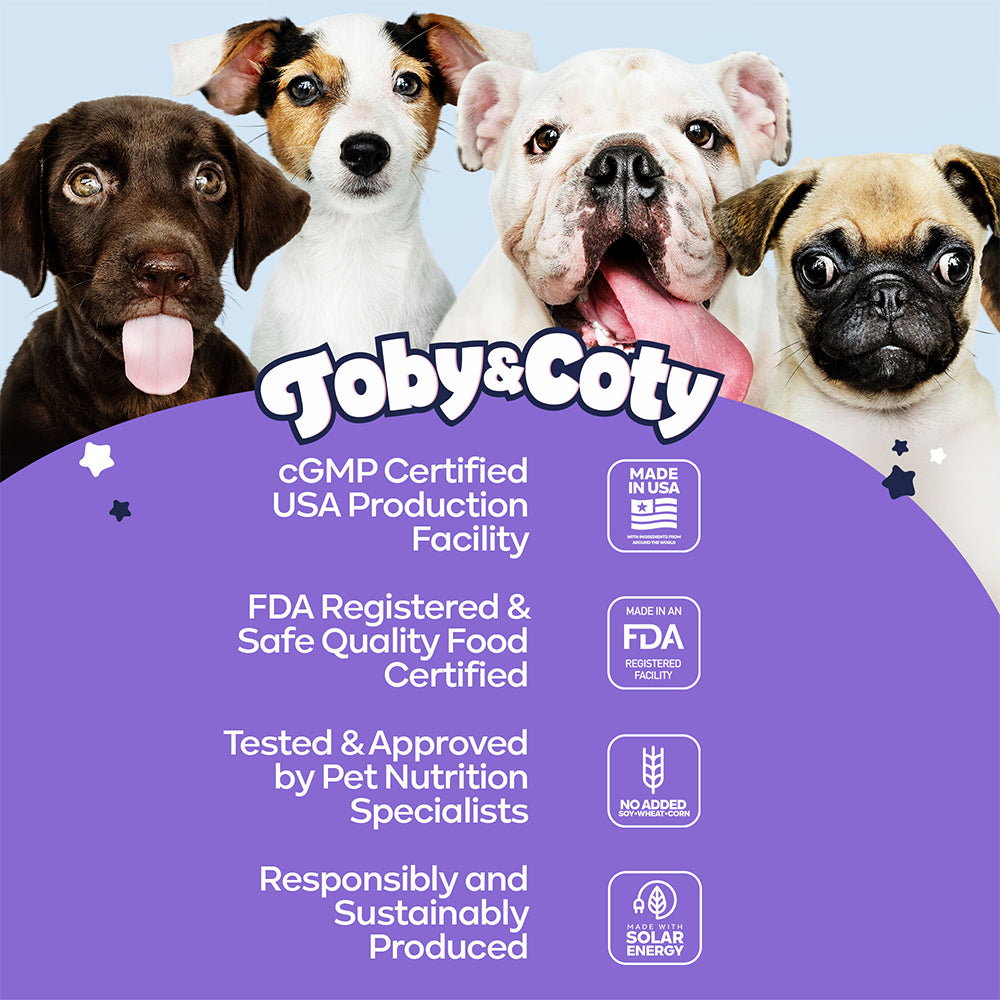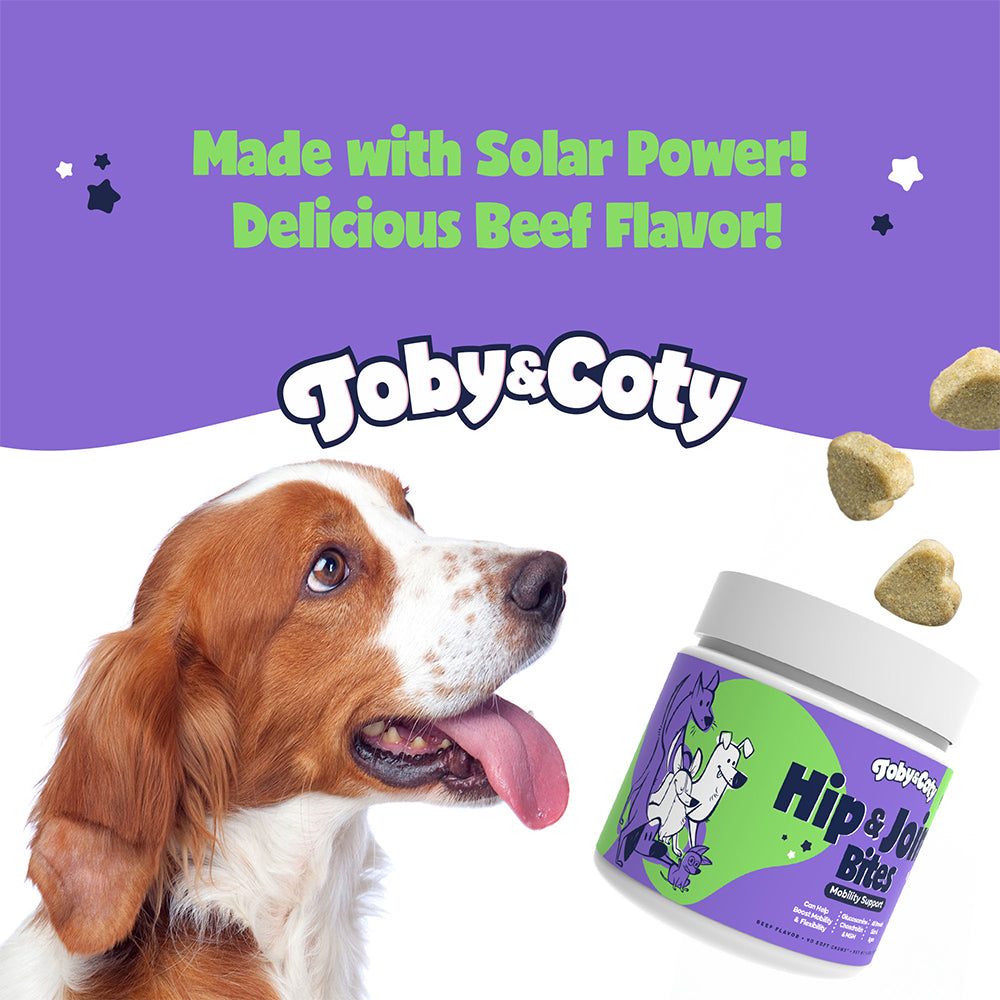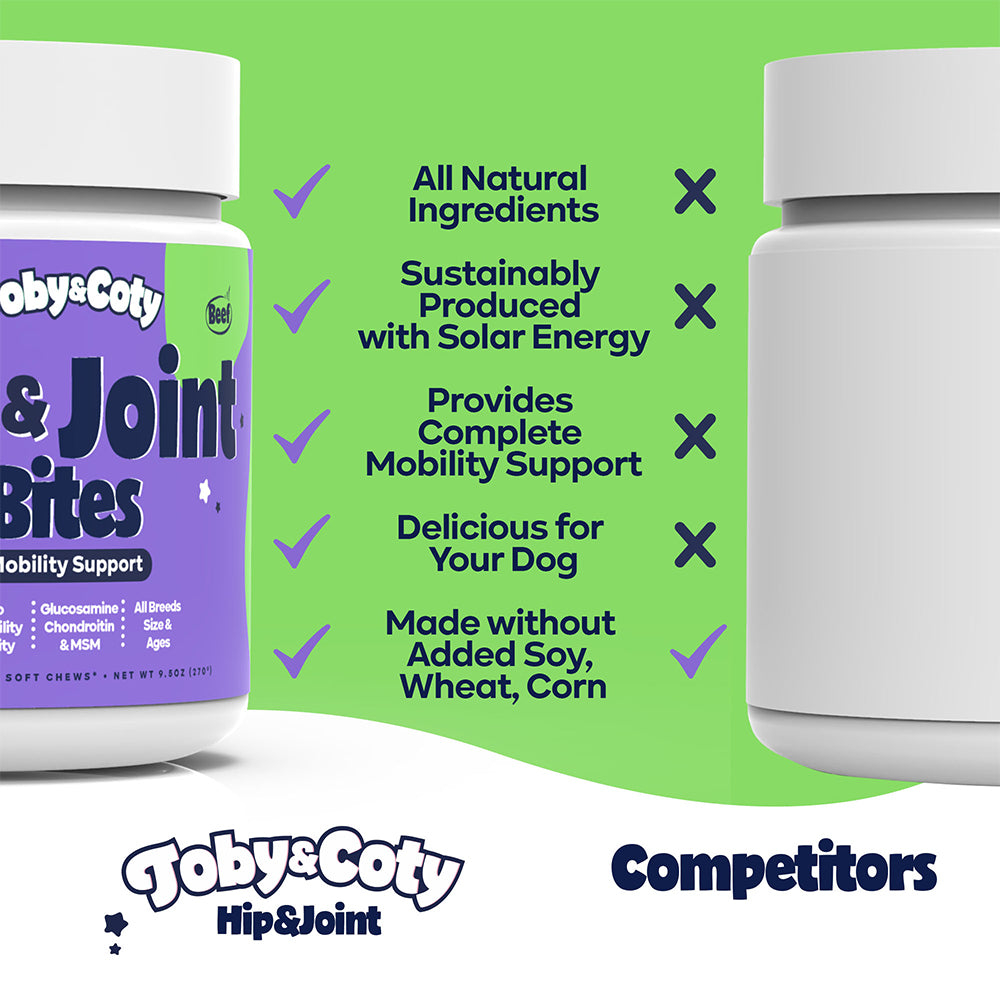 Only The Best
For Your Best Friend
Cutting-Edge Manufacturing

We manufacture our delicious soft chew supplements in a cGMP facility that is FDA-registered and SQF (Safe Quality Food) certified for the highest quality on the market.

Tested & Approved

Our 100% American-made chews are tested and approved in state-of-the-art facilities by a team of pet nutrition specialists before anything leaves our facilities.

Quality Ingredients

Our custom-formulated soft chews contain no cheap fillers, silicon dioxide, maltodextrin, corn, soy, or wheat. Just the best possible ingredients for your dog.

Maximum Benefits

Our chews are made without heat, water, or gumming agents, preserving our incredible ingredients' excellent texture, delicious flavor, and extensive benefits in every bite.
Bundle Up & Save
Sale price

$29.95

Regular price

Unit price

per

Help your anxious dog by managing their stress, nervousness, and hyperactivity.

VIEW

Sale price

$26.95

Regular price

Unit price

per

You can help boost your dog's movement with everything they need for maximum mobility.

VIEW

Sale price

$26.95

Regular price

Unit price

per

Keep that tail wagging with everything your dog needs to stay happy and healthy.

VIEW

Naturally Keeping Dogs in Pain-Free Motion
Glucosamine HCL:

Used to combat osteoarthritis, this naturally derived compound helps create the proteins and fats that repair cartilage when it's damaged. It can help keep your dog's joints lubricated and their connective tissue strong from nose-to-tail.
Chondroitin:

One of the building blocks of cartilage, this important ingredient can slow the breakdown between joints. It can promote healthy cartilage development and easy joint function for young pups and the young at heart.
MSM:

Used in the treatment of pain and swelling, MSM (Methylsulfonylmethane) can ease pain and calm inflammation in your dog while building premium muscular support for every jump and run.
Bovine Collagen:

A powerful protein that is part of the cartilage, bone, and other types of connective tissues in all bodies, this ingredient can encourage strong bones and improved skin health for a thriving dog, inside and out.
Organic Tumeric:

Derived from the root of Curcuma longa plants, this spice
is often used to treat conditions that involve pain and inflammation. It can also boost your dog's natural immunities and promotes a solid digestive system.
Only The Good Stuff
Our supplement chews are specially formulated to deliver exactly what dogs need to live a happy, healthy life for years to come (without any cheap fillers or gumming agents that they don't need)
Glucosamine HCl (Shellfish Source)

500 mg

Chondroitin Sulfate (Porcine Source)

300 mg

Methylsulfonylmethane (MSM)

300 mg
Serving size: 1 chew (3 grams)
Paws-itive Feedback
Helps My Dog's Arthritis

We have a 10-year-old Weimaraner who suffers from arthritis. He was once very active and now lays around most of the day and when he does move he walks with a limp. After a month of feeding him the hip and joint bites he has started to move more than I've seen him move in years! He clearly is not in as much pain.

Michael Garcia

4 days ago

Recommend for older dogs

My two golden doodles are not as spry as they once were, but they have a pep in their step again after starting them on these chews. They even run and wrestle in the backyard with each other. Highly recommend.

Maria Martinez

5 days ago

Pitbull can run again!

My pitbull Mary had a severe hip injury in 2019 and it has been very sad to watch her struggle with her mobility. After two weeks of feeding her the supplements she actually ran to greet me at the door today for the first time since her injury! Mary is one happy dog and I'm one happy human!

Patricia Brown

2 days ago

Terrific supplements

Let me start by saying that I wasn't expecting much from this product just because I have tried so many products and my dog has either refused to eat them or they have had little effect on her. For whatever reason she happily gobbles her toby and coty up every morning and I have noticed multiple improvements in her mobility. She climbs the stairs by herself and hasn't had any mobility-related accidents in the house. I will definitely be buying more.
100% Satisfaction all our products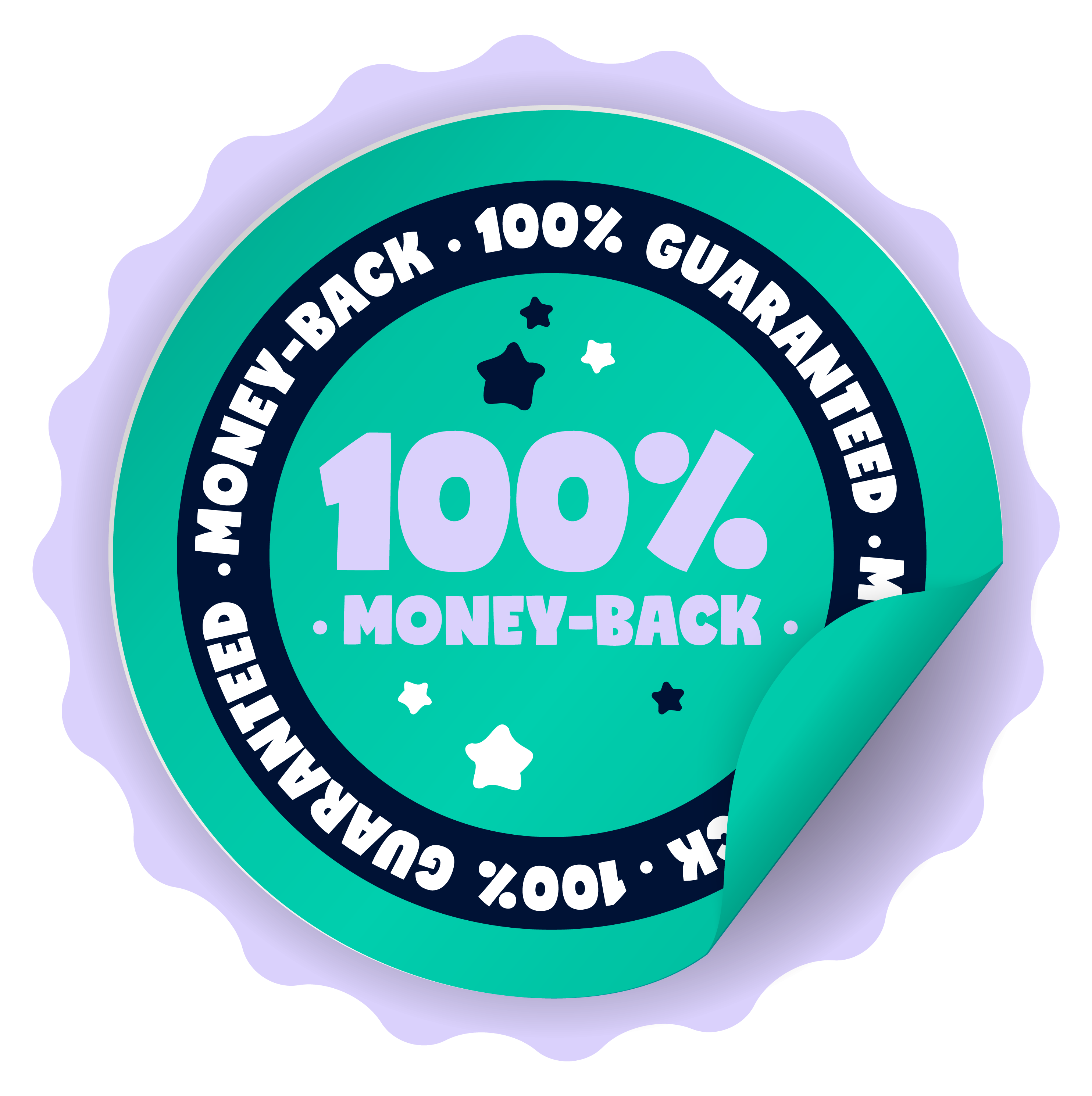 100% refund policy
We offer a 100% money back guarantee within 30 days of receiving a product. Try it out, if you are not satisfied we will refund you the full purchase amount.

Frequently Asked Questions
Are hip and joint supplements only for older dogs?

Hip and joint supplements can be beneficial for dogs young and old. Whether your dog experiences mobility problems or you want to ensure longevity in your dog's joints, these soft chews are excellent sources of bone-strengthening nutrients.
Do these soft chews contain shellfish?

Yes, the glucosamine is sourced from shellfish.
At what age should my dog start taking a hip and joint supplement?

Our supplements are completely safe for dogs and puppies of all ages! However, because puppies can have very specific health requirements, we advise that you get the okay from your vet before putting your puppy (under 1 year of age) on our supplements.
Does this supplement help with pain?

Yes. If your dog suffers from joint pains and mobility issues, these chews can greatly reduce pain by lubricating joints and strengthening their connective tissue. The supplement also includes MSM, a common treatment against pain and swelling. But please remember, these results take time. Most dogs will see positive results after 30 days of supplement use. So stay consistent and only feed your dog the recommended amount.
Choosing a selection results in a full page refresh.