Vitality Bites
Keep that tail wagging with everything your dog needs to stay happy and healthy. These chewable supplements contain only the best ingredients for your pup, which can help support strong hips and joints, heart health, great gums, and a solid digestive system. Make sure you give your dog a lifetime of fetch, tug-of-war, and fun at the dog park.
Shipped from Nevada Warehouse
Shipped by
Order within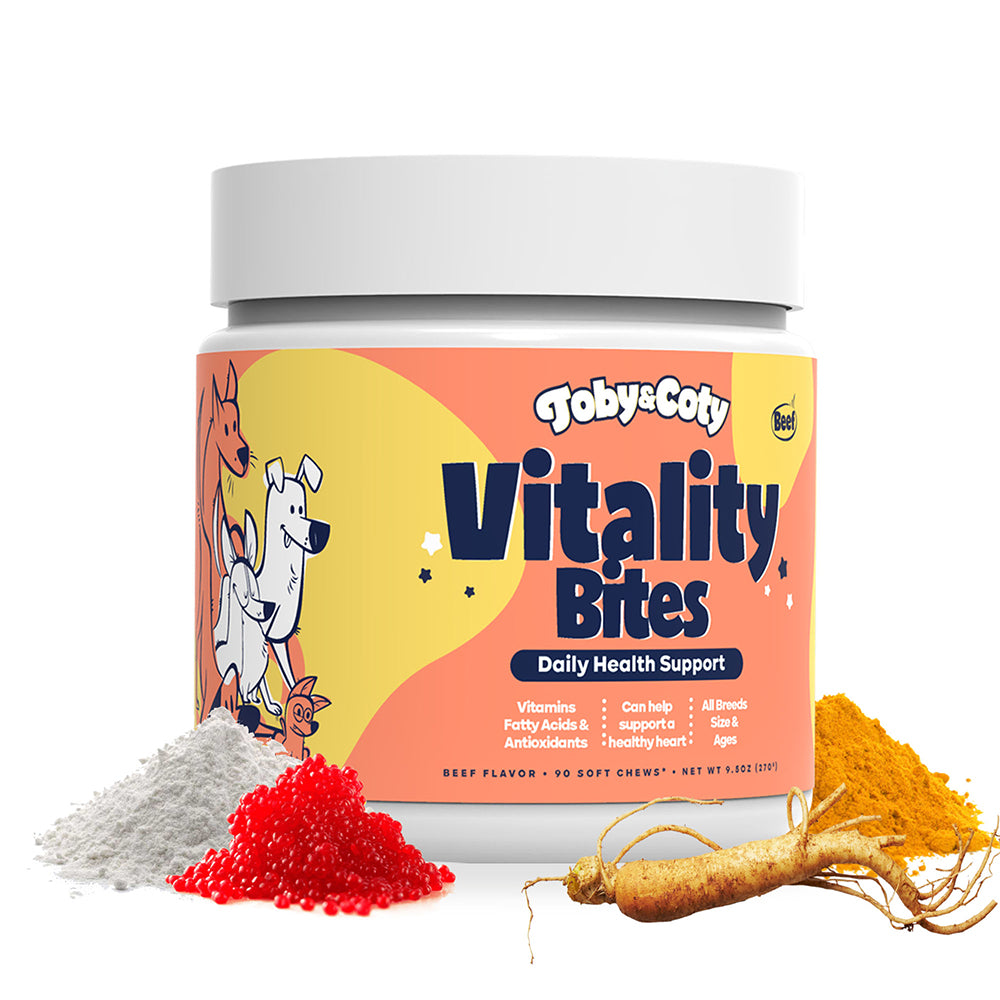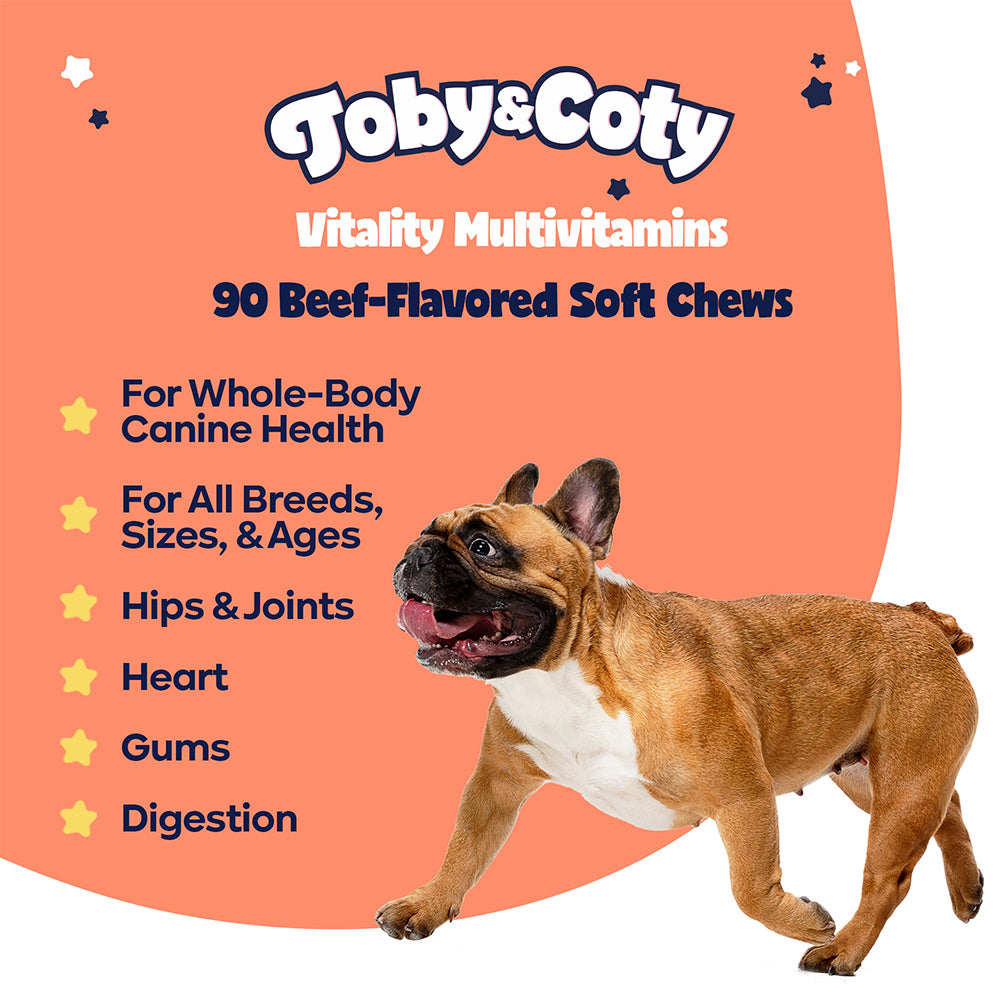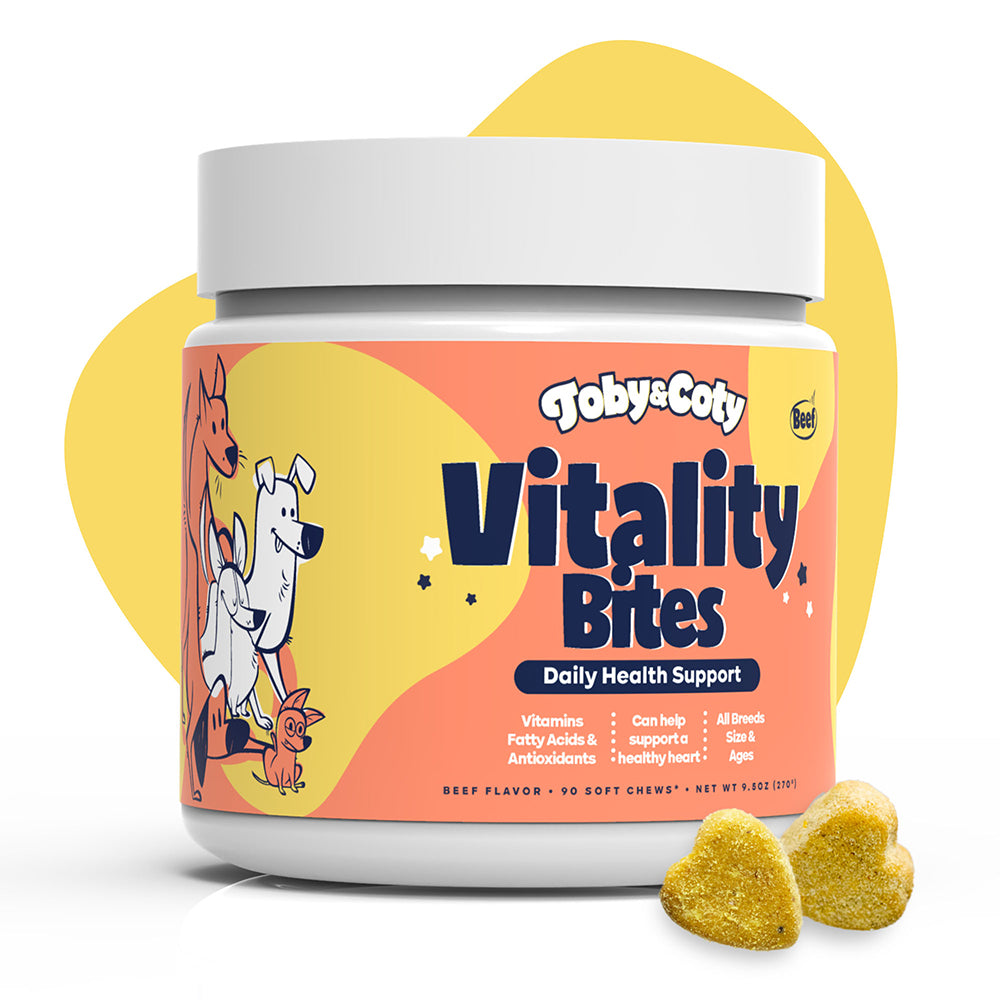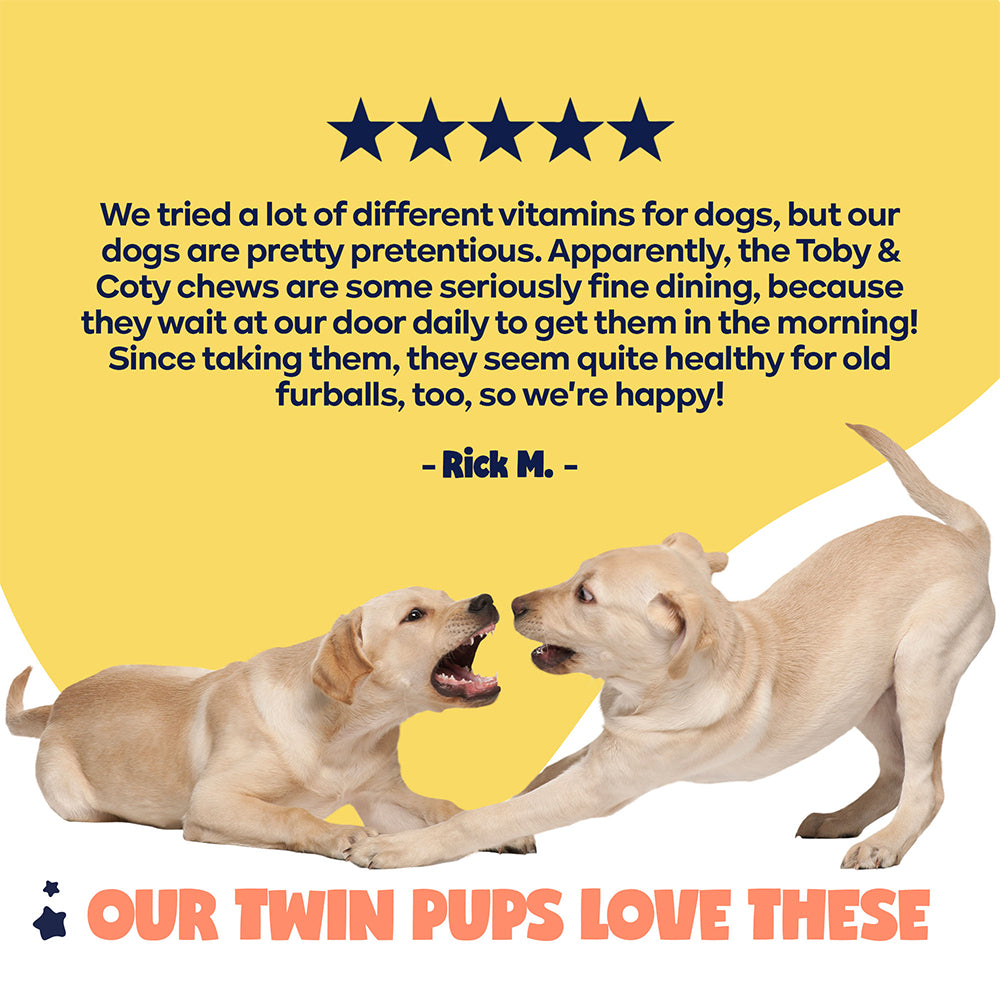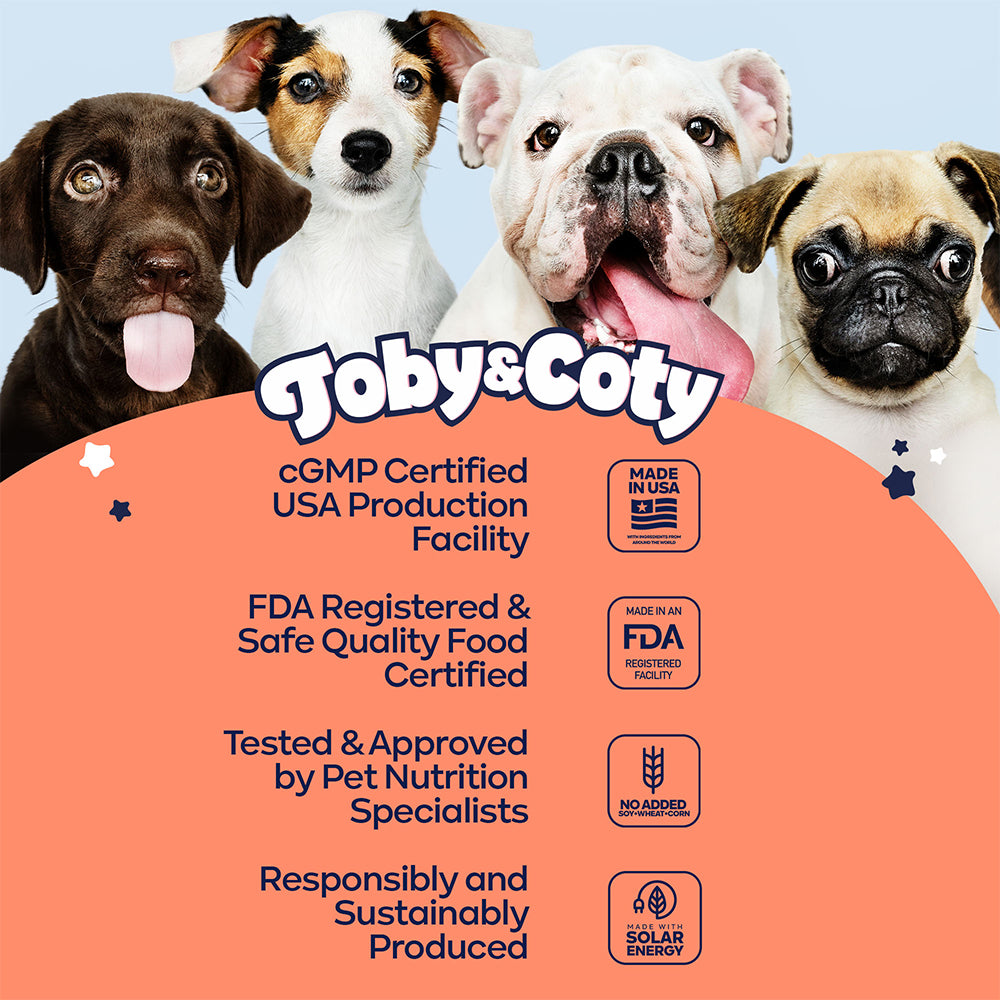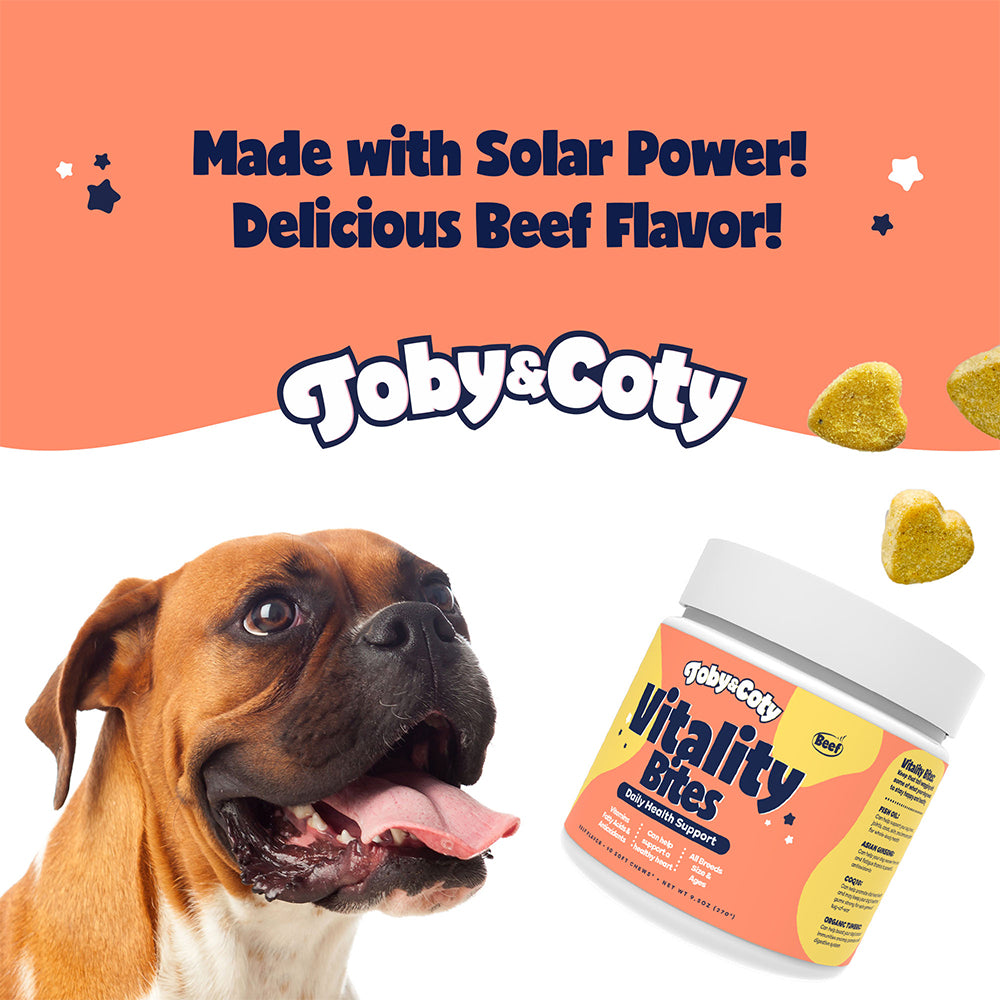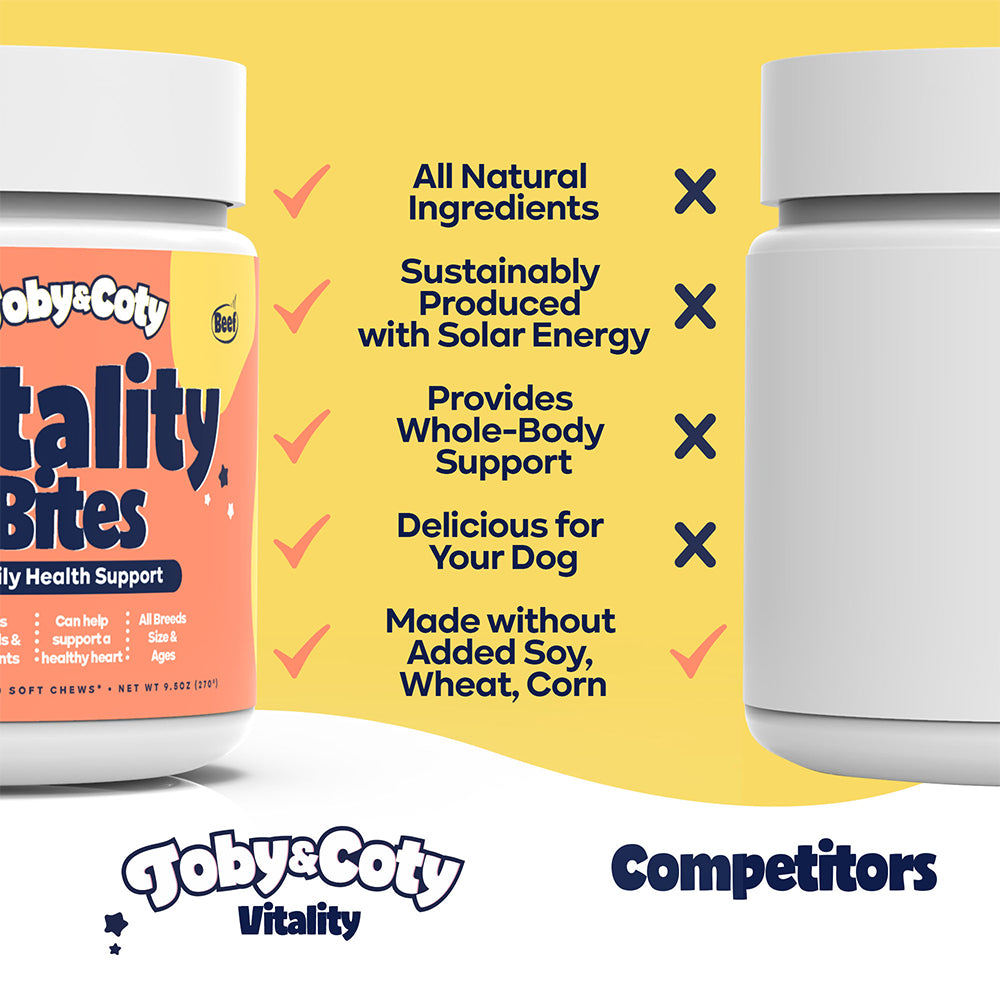 Only The Best
For Your Best Friend
Cutting-Edge Manufacturing

We manufacture our delicious soft chew supplements in a cGMP facility that is FDA-registered and SQF (Safe Quality Food) certified for the highest quality on the market.

Tested & Approved

Our 100% American-made chews are tested and approved in state-of-the-art facilities by a team of pet nutrition specialists before anything leaves our facilities.

Quality Ingredients

Our custom-formulated soft chews contain no cheap fillers, silicon dioxide, maltodextrin, corn, soy, or wheat. Just the best possible ingredients for your dog.

Maximum Benefits

Our chews are made without heat, water, or gumming agents, preserving our incredible ingredients' excellent texture, delicious flavor, and extensive benefits in every bite.
Bundle Up & Save
Sale price

$29.95

Regular price

Unit price

per

Help your anxious dog by managing their stress, nervousness, and hyperactivity.

VIEW

Sale price

$26.95

Regular price

Unit price

per

You can help boost your dog's movement with everything they need for maximum mobility.

VIEW

Sale price

$26.95

Regular price

Unit price

per

Keep that tail wagging with everything your dog needs to stay happy and healthy.

VIEW

Whole-Body Multivitamin Goodness for Lasting Joy & Health
Fish Oil:

Can support your dog's heart, joints, coat, skin, and immune system for whole-body health.
Asian Ginseng:

A naturally grown herb used for centuries to boost the immune system, affect insulin levels, and lower blood sugar, this powerhouse ingredient can help your dog recover from stress and fatigue thanks to powerful antioxidants.
CoQ10:

Stored in the vital organs, such as the heart, lungs, and liver, CoenzymeQ10 creates energy within cells and protects cells from damage that can lead to serious diseases. It can also promote vital heart health and keep your dog's teeth and gums strong for epic games of tug-of-war.
Organic Tumeric:

Derived from the root of Curcuma longa plants, this spice is often used to treat conditions that involve pain and inflammation. It can also boost your dog's natural immunities and promotes a solid digestive system.
Magnesium Citrate:

A naturally occurring mineral that is important for many systems in the body, it can help your dog build strong muscles, and promotes solid bones, good digestion, and a clean urinary tract.
Only The Good Stuff
Our supplement chews are specially formulated to deliver exactly what dogs need to live a happy, healthy life for years to come (without any cheap fillers or gumming agents that they don't need)
Valerian Root Powder

10 mg

d-alpha Tocopherol acetate (Vitamin-E)

5 IU
Serving size: 1 chew (3 grams)
Paws-itiveFeedback
Very Happy with My Purchase.

What more can I say. The vitality bites work and my dogs love them. They are always happy and energetic. They even run into the kitchen and sit patiently when I get out the bites to put in their food bowl. Not to mention that the formula includes everything you could want in a healthy diet for your dog. More people should pay attention to what they feed their dog!

Thomas Anderson

4 days ago

Helped with fur and skin!

My beagle started to have patchy fur and irritated skin so my vet recommended I try a daily multivitamin. I went with Toby and Koty because my brother had similar problems with his dog and toby and koty worked for him. I was not disappointed. After a little over a month my beagle's fur is starting to look silky and smooth again!

Perfect supplement for dogs of all ages.

We have three dogs, a lab mix, a husky, and a german shepherd. After doing some reading I realized that our dog's diets were probably lacking in essential daily nutrients. We started all three on the vitality bites and they're a hit with all three of them. It gives my wife and I peace of mind knowing we're feeding our dogs healthy and giving them daily vitamins and minerals to increase their longevity. Great stuff Toby & Koty!
100% Satisfaction all our products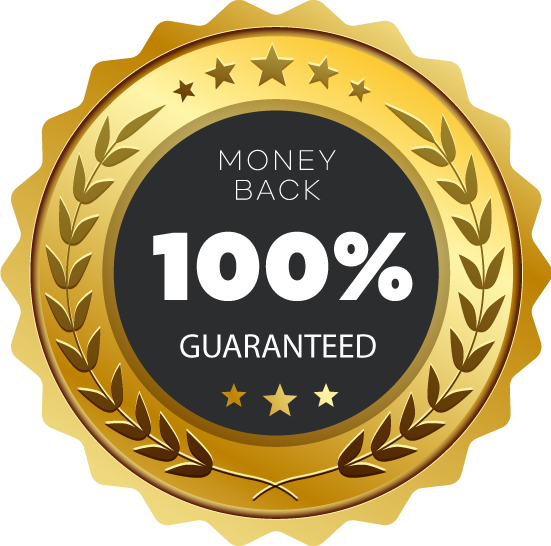 100% refund policy
We offer a 100% money back guarantee within 30 days of receiving a product. Try it out, if you are not satisfied we will refund you the full purchase amount.

Frequently Asked Questions
At what age should my dog start taking a vitality supplement?

Our vitality supplements are safe to feed to any dog over the age of 12 weeks old.
Why should I feed my dog Vitality Bites?

Our Vitality Bites are proactive supplements for your dog's daily health support. Think of our vitality supplements as a daily multi-vitamin for your pup. This soft chew formula is designed to promote overall well-being and increase your dog's longevity so that they can enjoy their elder years without health issues.
Choosing a selection results in a full page refresh.